Cam Belt & Water Pump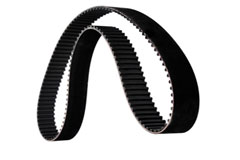 Cambelts
The cambelt is a serviceable item that's an integral part of the engine.
Without this part the engine will not work, unfortunately if the cambelt snaps it can end up being very expensive to repair, the bill could be as much as £2000 to repair or replace your Mazda Bongo engine

There's no real way to know if the cambelt needs replacing and if you don't know when it was last replaced the best thing to do is change it.

We recommend to change it every four years or 40,000 miles .....it can cost less then you think  ... At Bongo Mad prices for replacing a Mazda Bongo cambelt start from as little as £160 including new parts and labour for a 2.5 turbo diesel.
Water Pump
If your changing the cambelt it's always a good idea to change the water pump too as they are both serviceable parts and if either break it could potentually cost you a small fortune.

The water pump pushes the water through the cooling system of the engine if it breaks the engine will overheat and again could lead to head gasket problems and a very costly repair bill.


Save
Save
Save